Selling counterfeit products are illegal and punishable by civil and criminal courts according to the trademark, copyright, and intellectual properties laws and regulations.
This problem is more prevalent and costlier than most people suspect. Counterfeiters have no boundaries. Certain Pakistani manufacturers have stolen elastic designs, photos and even ad copy in some cases.
Legal Action
Digital Millenium Copyright Act (DMCA) enforcement – We scan the internet regularly and file Digital Millenium Copyright Act (DMCA) complaints. We are actively working to take down counterfeit product manufacturers and websites using pirated product images bearing the unauthorized use of our Titan brand.
Court Action – Court action is is taken as necessary. A recent case was decided in favor of Titan in the Australian courts. That decision can be viewed on the following link
Titan Support Support Systems Inc v Nguyen Federal Court of Australia
Labeling
All Titan products are labeled with product labels that state the product name and contents.
Perhaps the most counterfeited products are our wraps. To combat counterfeits, every Titan Wrist and Knee Wrap since June of 2013 has featured a 4 part label. Samples are below:


Only Titan Wrist and Knee Wraps feature these labels.
All other unlabeled wraps are counterfeits – even if the elastic body looks the same.
As of May 1, 2015 all other products (such as suits, shirts & singlets) will feature the product label as well as the label below: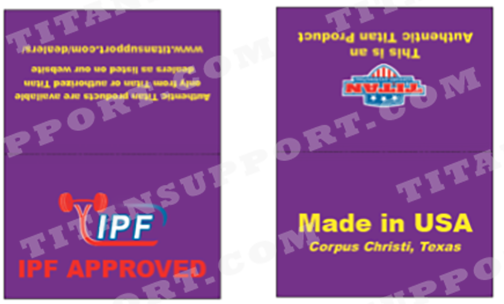 Watermarking
Watermarking our original website product images with the Titan logo is another step we've taken to curb piracy of images from our Titan Authorized Dealer sites.

Bookmark our page to shop direct from our site. http://www.titansupport.com/