Counterfeits are fake or imitation products, with an unauthorized representation of a manufacturer's trademark or trade name.
Counterfeits are made with the intent of tricking you into believing the product genuine.
Contrary to Titan Support Systems, Inc. standard in manufacturing high quality, original products, counterfeiters usually do not comply with health and safety regulations and the risk of identity theft is high when you purchase from a counterfeiter site.
Authentic TITAN products are only available, online from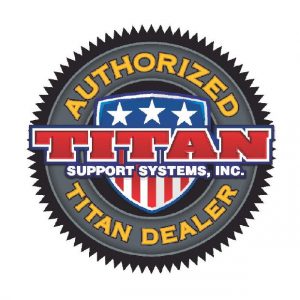 We at Titan Support Systems, Inc. are committed to protecting our customers from unauthorized dealers and potentially harmful or dangerous knockoffs, as genuine and associated with the Titan brand.
ONLINE:
If you have searched online for TITAN powerlifting gear or products, you may already have been exposed to unauthorized dealers and counterfeit TITAN products. Counterfeit manufacturers and unauthorized seller sites have surfaced in Russia, India, Pakistan, China and Australia.
Authentic TITAN Support Systems, Inc. products are only available, online from
We have security measures in place to help authenticate our products and we do regular online sweeps for counterfeit products and unauthorized dealers.